"Cheap grace is the preaching of forgiveness without requiring repentance. Costly grace…is the call of Jesus Christ at which the disciple leaves his nMelanie Shepardets and follows him"
– D. Bonhoeffer
Hello Friend!
The conversation was heighten, I've known this student for several years and it was time to be straight forward. "Do you believe that your religion is logical?" I asked "No." Came the response. I continued "From what you know of Christianity, does it seem logical to you?" "Yes. It does." "So are you willing to follow what you find logical and trust in Jesus?" "No, Melanie. I can't do that. You know the position I am in and I can not follow Jesus. I believe though that He also knows the position that I am in and He will understand and accept me in the end." I don't really remember what I said next, but I felt the weight of a young person who recognizes Jesus but feels the cost to follow him is too high. At this point the story has no resolve or happy ending, yet I continue to pray and have hope that at the right time and moment this young person will see that Jesus is worth it all no matter how high the cost.
She is a freshman in high school, she wore a pentagram on her jacket and watched the show Lucifer before coming. Chloe had never watched the Super Bowl and I couldn't tell if she enjoyed herself as she kept her emotions hidden. The next night she came to a youth event I helped host. Chloe was still guarded but she started to open up as she played sports and other games with the students her age. The evening ended with a short talk about the love story found in the Bible. Chloe's eye's were riveted on the speaker as she heard this all for the first time. Her joy and excitement was visible.
Moments like these don't happen often, however when they do they are very rewarding. Chloe, who's major influence in her life is the screen in front of her was given a real opportunity to hear about Jesus in a positive environment and she loved it. I love it too, investing my time with local middle school and high school students. Many of these students will come to Santa Monica College once they graduate. My hope is that starting earlier with these students will help them bridge into a healthy community when they come to college.
Sometimes ministry means knowing when to get out of the way. I am turning over the college Bible study I lead last semester to three enthusiastic students who will grow more from leading themselves. As I develop a leadership track for them, I look forward to coaching and discipling them in the coming months. This also means I will have time to start an additional Bible study with a new group of students. Growth feels good.
Oh! The group Willy and I are hosting has blown up, while Chansi took a Chaplin position on the team he played for in the past. I'm sad to lose Chansi but excited for his new opportunity. Thank you for your continued prayers!!!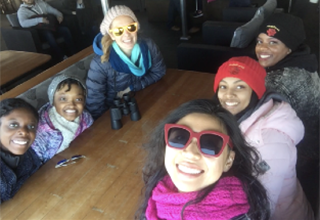 You can find out more about Melanie and keep up with her ministry 
right here
. If you'd like to make a contribution to Melanie's ministry, you can do so 
right here
.